News
Lioujas
12740
Aveyron
NEWSLETTER - SOBAC - DECEMBER 2020 (Copy)
Autonomy, health and profitability
SOBAC - EFFLUENT VALORISATION 
BACTÉRIOLIT is a 100% natural composting additive. It quickly activates  the   biological  transformation  of  manure  and  slurry  into  humus  and  improves their efficiency, notably by reorganising the forms of nitrogen  that they contain. 
 The minerals contained in farm fertilisers are reorganised and fixed on the clay-humic complex and restored to plants rather than being evaporated or leached. Plants thereby obtain more balanced feed over a longer period of time.
BACTÉRIOLIT reduces smells in the sheds while improving the evolution of the effluents  into  compost  without  the need of mechanical intervention. It also increases the fertilising value of effluents and improves sanitary conditions of the herd thus fertility on animals. Once organic matter applied to the soil with BACTÉRIOLIT it has the same benefits on the soil as BACTÉRIOSOL. 
ECONOMIC STUDY : MEASURE THE IMPROVEMENT OF THE OVERALL OPERATING PROFITABILITY FROM ACCOUNTING DATA AND LIVESTOCK MEASUREMENTS
Frédéric and Angélique Rozier, GAEC de la Grange Blanche, in Briennon (Loire), France. Since 2014 216 hectares including 15 of cereals, 10 of temporary meadows and the rest in natural meadows, 150 Charolais cows and 40 heifers for replacement. Testimony collected in autumn 2016.
1. TECHNICO-ECONOMICAL STUDY 
Following comparative analysis of forages carried out in 2015 on the same parcel of natural meadow cut in half, with a control (untreated manure + 30 units of nitrogen) and a SOBAC (manure seeded with BACTÉRIOLIT), with an equivalent yield, it was possible to measure the autonomy in milk and meat production. Note: LSU = Livestock Unit; MFU = Meat Fodder Unit ; DPI = Digestible Protein in Intestine.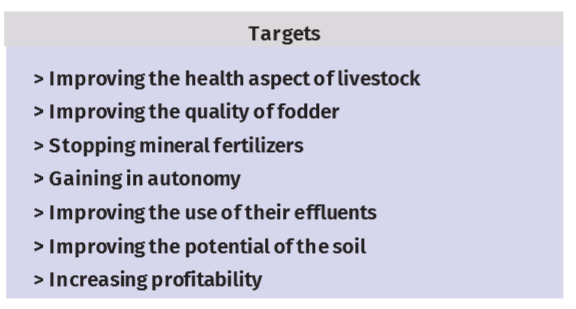 Theoretical calculations based on an average yield of 6 T Dry Matter / hectare 
Autonomy in NDPI (Nitrogen Digestible Protein in Intestine) with SOBAC hay : +48 g/kg dry matter or +288 kg NDPI / hectare. Knowing that 1 kg of raw 48 soybeans = 331 g of NDPI, to obtain the same value with the control hay : 
 
1. SOBAC hay saves 870 kg of soybeans / hectare

2. 339 € / hectare savings (basic price : 390 €/T)
The milk production per hectare is higher with SOBAC forages, thanks to a better soil balance, thus allowing more calves to be fed with quality milk. A well-fed calf from the start and in a healthy environment will have good immunity and a good microbiota, and will thus be in better health, contributing to the gain in productivity.
 
2. FEEDING CATTLE IN AUTONOMY 
For a 650 kg cow (450 kg carcass weight), target of 1,200 g/day, on a fattening period of 150 days. The needs are: 11.2       MFU/day/LSU and 1,120 DPI/day/LSU i.e. 1,680 MFU/LSU and 168,000 DPI/LSU for 150 days of fattening. 
The more balanced and mineral-rich the fodder the higher the average daily gain allowed. Here, the farmer earns between 0.57 and 1.71 LLUs allowed/ hectare with the fodder unit and DPI measured on the SOBAC side. Thus, he gains in autonomy in the face of weather hazards which can affect stocks, but he also has the possibility of increasing the number of LLU / hectare according to his targets. 
 3. IMPROVED MARGIN IN MEAT SALES 
 Economic gain per kg of meat with the same fattening time :   
-> Improving the atmosphere of the building and the sanitary environment promotes better animal health 

-> Better start-up of the calves thanks to the improvement of the atmosphere of the building and the quality and quantity of milk produced by the mother from farm fodder produced with BACTÉRIOLIT - BACTÉRIOSOL.
-> Improved ration efficiency : the ration of "broutards" being identical before and after SOBAC, it has higher value via the quality of self-consumed fodder and therefore it makes it possible to produce more meat with the same amount of food.