THE MASTERY OF MICRO-ORGANISMS
FOR THE HEALTH OF THE PLANET AND HUMAN BEINGS
Marcel Mézy is self-taught. Thirty years ago, this farmer from Aveyron,
with an acute observational sense of nature,
was looking into how soil works and particularly how humus forms in nature.
His lengthy research gave birth to a unique concept of fertilisation,
based on the action of micro-organisms.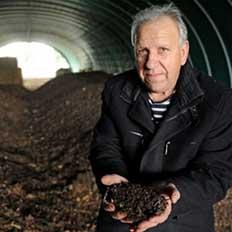 A discovery lauded as the "3rd agricultural revolution" by prof. Marcel Mazoyer,* built on a 30 years' experience.
Originally based on observation of processes in nature, the concept invented by Marcel Mézy is unique. Thanks to the mastery and understanding of the functioning of micro-organisms, it permits the humification of all types of organic matter and fast development of humus production in all types of soils and climates.
Called the "Third agricultural revolution" by Prof. Marcel Mazoyer, Marcel Mézy's fertilisation concept now enables thousands of farmers to engage in the agriculture of the future that guarantees healthy land, yields, and food safety of output.
*MARCEL MAZOYER: Agricultural engineer, forester, and expert in agricultural economics, professor at the University of Paris XI, editor in chief of the latest agricultural Larousse, professor emeritus of agricultural development at Institut National Agronomique Paris-Grignon. He was head of the department of rural economics and sociology at INRA (1972-1975) and chairman of the FAO programme committee (1983-1993).
Soil fertility and food self-sufficiency for all, through the spectacular sequestration of carbon and the reduction of salinity in arid lands.
By naturally giving back to the land its fertile power, this invention can instal life rapidly everywhere, thereby encouraging people to stay in their natural setting while protecting their health and that of the land. It is currently one of the greatest solutions to the worrying decline in soil fertility worldwide and to the environmental problems caused for more than a half-century by agricultural practices and natural aggressions on soils.
Its ability to fix CO2 makes it a major player in the fight against climate change. Based on "good husbandry" practices, these technologies enable us to regain our rights and our place in our natural environment.
Used by thousands of farmers in Europe
Since 1992, thanks to Marcel Mézy Technologies, SOBAC* has been offering farmers an alternative to conventional agricultural practice. There are now thousands who have switched from chemicals, with the deep conviction that they have rediscovered "good husbandry". By fertilising their land differently, most of them say they have rediscovered a pride in working more cleanly to feed people. Their economic and agricultural results prove that it is possible to produce both quality and quantity while respecting the environment.
*Founded in 1992, SOBAC markets Marcel Mézy Technologies under the registered trademarks BACTÉRIOSOL®, BACTÉRIOLIT®,BACTÉRIOMÉTHA®, QUATERNA® in the agricultural and gardening sectors and to local authorities. Since 1998, SOBAC is cited by ADEME (Agence de l'Environnement et la Maîtrise de l'Energie) in its guide "Conception de produits et environnement, 90 exemples d'éco-conception" [Product design and environment: 90 examples of eco-design], where it features as the only product for agriculture and plants.
Watch this video, opposite, to see how Marcel Mézy Technologies work :
"Today, planet-wide, practically all cultivated soils have lost their fertility. Leading to erosion, compaction and asphyxia. Humus, the element in the soil that enables nutrients and water to be retained, is often degraded.
We therefore have to add more water and nutrients to enable plants to grow, which is very costly and produces environmentally harmful effects, particularly for air and water.
The technologies invented by Marcel Mézy, which SOBAC markets, allows this humus to be produced and to improve the functioning of the soil, while respecting the environment and even helping combat global warming. "